We were taught at a young age that numbers, pies, pieces of paper, etc. can be split into equal parts. Eighths, sixths, fifths, fourths, thirds, and halves are all
equal
parts of various entities. One would think that the same concept would apply to people. Approximately half of the world is made up of women and the other half is made up of men. Fractions teach us that if the world is split into two genders, those genders, in theory, should be equal. Numerically, yes, they are. But conceptually, men and women are not
equal
. In what ways are men and women not equal in the 21
st
century? What women inspire us or empower us?
Inequality has been a recurring issue throughout history, but has steadily become less severe. In the 'Bible days' women were typically subservient to men and the basic idea of men being the head of the household began. It was not until the late 1900s when women first became breadwinners in some households and became responsible for the duties that came with it. In the 21
st
century, women are co-breadwinners or primary breadwinners in two-thirds of American families. Danny Brennan says that women are "expanding boundaries" and "more involved in the day to day [workplace]". However, due to the negative views of women that have manifested century to century, "men are taken more seriously" and "women are seen as silly", Graysen De Jong adds. Even though they are breadwinners in two thirds of American families, women are paid much less than men even when they're doing the same jobs. This lack of pay not only affects the amount of income women receive, but can also cause women to face basic injustices in the workplace. Paid sick time is less likely to be given to lower paid workers, which means that typically women would receive less paid sick time than men. According to Sidney Maurice, all of this inequality originally stemmed from an attitude of "preconceived power" that has caused men, whether or not they know it, to believe they are superior to women.
Although there are many injustices faced by women, there are many women who have faced inequality head-on and shown that women are accomplished, empowered people. All of the people I interviewed on the subject agreed that Michelle Obama is a woman that they look up to and who meets the characteristics of a powerful woman. Danny Brennan claims that a powerful woman is "any person who stands up for themselves" and Graysen De Jong says a powerful woman is someone who "does what she wants regardless of the consequences". Michelle Obama was the First Lady of the United States from 2009 to 2017. She graduated from Princeton University and Harvard Law School. She worked as a lawyer while also maintaining several authoritative positions at the University of Chicago. While in the White House, she enacted many programs including the
Healthy, Hunger-Free Kids Act, which implemented healthy food and fitness programs. Michelle Obama is a prime example of how women can break through the barriers of inequality and accomplish whatever they set their mind to.
Inequality is something that lingers throughout society and affects all of us. Despite this inequality, men and women constantly work together to fight it every day. Society becomes more and more inclusive in little ways and men and women find ways to coexist. Men and women are both
powerful in their own respective ways. We can all find ways to make society equal, and it starts with recognizing and praising the ways women have contributed to society.
​photo: nytimes.com
Powered by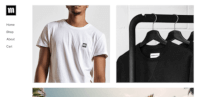 Create your own unique website with customizable templates.