The Hillgrove Lady Hawks Volleyball team has been serving up quite a season so far. With an overall record of 13 wins, these ladies have definitely been putting in the work. The varsity volleyball team consists of five seniors, five juniors, a sophomore and a freshman. The team is headed by Coach Self who is assisted by, junior varsity coach, Coach Gaffney.
Their season started with their first game on the 5th of August at Woodstock High School, and has progressed through with their most recent victory at Marietta High School this past Wednesday. Although they have been winning quite a bit, they have lost 10 games including Allatoona, Lassiter, and Harrison. According to Coach Self, "It's going well; we have a very tough schedule this year. We have a lot of experience, and so, I think that our record is kind of deceiving in the sense that it looks like we've had a really rough season but we are really competitive this year. We're hanging in a lot of games with some really good teams, so we're excited for what area play looks like, starting this week, and what the rest of the month of September looks like." Assistant Coach Gaffney says, "All the girls seem to really be enjoying it and they're playing well so, I can't complain."
Junior teammate, Ryan Castlin mentioned, "We can get better on talking more and having more energy on the court; we do a pretty good job of lifting people up when they're not doing as well but, just like the energy and the connection on the court." Senior player, Kyla Bowick, added, "... I feel like we hit a mental barrier and we need to overcome that; if we do we'll be really successful this season. We can work on trusting each other better 'cause I feel like sometimes we all want to get the glory but sometimes we need to understand that other players can do our jobs too." Sophomore teammate, Heaven Varner, expressed, "Well, I think we really work well together as a team and we've all been playing together for a long time; but when comes to things we can work on, there's always taking an extra step in practice and making sure that we're doing the extra work."
Coach Self, when asked about the amount of people showing up in the stands, explained, "So far we've had a pretty good turnout this year. I think both of our home games we've had a good student section. It was definitely awesome to have them there when we played Cambridge, I think that it was definitely helpful for the girls; to keep them energetic. I would love for more kids to come out and want to be apart of it. I think that people don't think about volleyball because it's during football season; but it's so much fun and so energetic. There's just so much that happens, I think that we just get lost in the shuffle." Kyla Bowick replied, "We need to get a better student section, at the end of the day. I feel like our student section has gotten better but, it could be better 'cause we feed off of the energy from the stands. We've created some of our own themes but we need more people to come and participate in those themes as well."
To the students that don't come to the games, Kyla's message was, "They need to get some more school spirit. As an athlete, I go to a lot of games for other sports just to support so, people need to return that." On the other hand, Heaven's message was, "Well, you don't have to come but, it's kind of your loss because you're probably at home doing homework and we're having a good time, taking pictures on Instagram, doing our thing and you're just kind of at home so; you do you." Hillgrove Volleyball has a home game Tuesday, September 19th, at 5:30 p.m.
Powered by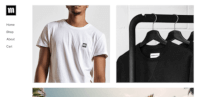 Create your own unique website with customizable templates.