Every year seniors graduate and move on to life after high school, and the class of 2018 is no exception. Mo Bastion and Savannah Stewart are two seniors that are moving on to play softball in college. Softball is a game that began in 1887 after a Yale vs. Harvard football game, After Yale was declared the winner a Yale fan threw a boxing glove at a Harvard supporter. The Harvard supporter took a stick and hit the glove sending it flying. George Hancock, a reporter at the time for the Chicago Board of Trade yelled out, "Play ball!" which started the beginning of softball. It is a perceived notion that softballs are actually softer than baseballs, this is not the case. A softball weighs about seven ounces while a baseball only weighs five point to ounces. Softball is played on a large field with nine to ten players playing at once. There are also two types of softball; fastpitch and slowpitch. At Hillgrove the girls play fastpitch softball, and that's what Mo Bastion and Savannah Stewart are going to college to play. According to the NCAA, 8.4% of high school softball players move on to play softball in college.
Savanah Stewart has been playing softball since she was four and has a reason and a passion for playing the game. Savannah Stewart has a reason for playing," At first I just started because it was another sport [but] now I do it just to continue the game and grow the game." She has gotten signed at LSU to play softball. While at LSU she hopes to study sports administration and one day hopes to do sports broadcasting for ESPN. Outside of school Savannah is still active with softball, she plays travel ball with Georgia Empire. LSU is a NCAA division I college softball team and they are part of the Southern conference.
Mo Bastion, who is also a 2018 senior at Hillgrove, she has been signed with Georgia Military College for softball and plans to get her associates in Biology while at Georgia Military College and then moving onto a four year after that. Outside of school Mo Bastion is still actively involved in softball. She plays East Cobb Bullets while she is not playing with the school. While no plans are definite, Mo hopes to work in Sydney Australia with the coral reefs after college. Sydney Australia is one of the best places to study marine Biology because of its strong current that comes into southeast Australia making it a prime spot for marine biology or oceanography studies. While all of our seniors are getting ready to apply to college we want to extend a congratulations to Mo Bastion and Savannah Stewart for getting signed. Good luck Hawks!
Photo Credit: www.hillgroveathletics.com
Powered by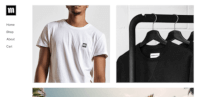 Create your own unique website with customizable templates.