While there are lots of well-known sports at Hillgrove, one of our hidden gems have to be our JROTC drill team. According to the Hillgrove JROTC drill team website there are 4 different types of drill team; unarmed basic, unarmed exhibition, armed basic, and armed exhibition. The drill team meets also include competitions which consist of sit-ups, push-ups, 8 by 220 relay, and the 16 by 200 relay. Each team is also made up of 16 drill team members, and one of these members is Michelle Lara, a two time member of drill team who is now a senior.
Michelle Lara is a member of Hillgroves' drill team and has been a member since her sophomore year and she is now a senior. There are two types of drill teams which Michelle tells us about, "basic which is where you do all the movements they ask you to do and everything has to be precise and clean for basic, and for exhibition you basically make up the routine." "Think of it kinda like step team, but like military style." She adds,"It's fun, it can be serious at times it not always just fun and games but it like can be fun and you can make a lot of great friends because you're like always around each other."
Since Michelle has been part of drill team since her sophomore year, she knows what it takes to make the team. "[To be on drill team] you need to be always be present and you need to always be working hard, those people are most likely going to be the ones going on competitions and being on the team." You also have to be part of ROTC to be one drill team unless you are part of reserves, which is if you're taking classes you need to graduate and you don't have room for ROTC."
Although Michelle enjoys drill team she is not going to pursue it in college."I'm not going to pursue drill in college because I feel that's not the direction I want my career to go in, doing it in high school is fun but in college it's different, it's more commitment. I rather pursue something else that will help me later in life." Michelle elaborate by saying" Like ROTC in college helps you with your career, but I just don't see myself doing that." Michelle is hoping to go to Georgia State or KSU, to study biology.
Michelle enjoys drill team:"It's really fun, it's probably one of the most fun things I do."
​
Powered by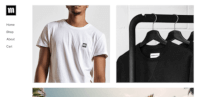 Create your own unique website with customizable templates.