At the beginning of the school year, we, as a journalism class tried to make the newspaper fresh and new. Let it be known that we've had a school newspaper dating back to 2006, when the school opened, and back then they actually printed their paper. When our class started out this year we looked at these papers and derived our goals for the year out of them, from what we want our stories to be about, to our new goal of having at least one printed newspaper a semester. However, we knew that if we wanted these things to happen we would need people to actually read the newspaper, and frankly, no one really does read the newspaper.
We do not really know why people are not reading the newspaper, maybe it's too much work or we just don't advertise it enough. Some people like senior, Tobias Haymes, don't even know about the paper, when asked about the paper he said, "We have a school newspaper?" This also isn't the only time that this has been asked, which is why we've tried to figure out what the student population really wants. However when we asked the student population what they actually wanted to see in the newspaper, we got responses that said things that were already in the paper, for example we wrote an article about our cheerleading squad and the next week we got a suggestion that we should write about the cheerleading squad. Although we weren't super offended by this, it still is quite discouraging that our school doesn't even read our paper. We appreciate the comments and the helpful suggestions, however we would also appreciate students actually reading our content, if they have the time to tell us what it should be, they have time to read our content.
Although we have listened to the comments from the student population, there is only so much we can do. We've tried to make our content as public and user-friendly as possible, it's now the student body's turn to actually read it.
Photo Credit: ​
www.thefandompodcast.com
Powered by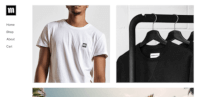 Create your own unique website with customizable templates.