Students explain to their feelings on today's music, as well as show how many people actually know and enjoy the songs listed as #1 on ITunes, and why.
As a school that's extremely invested in the arts, it's no surprise Hillgrove students are so big on the music they listen to becoming a part of them. According to ITunes, the #1 songs in the genres Pop, Alternative, Rap, and Country are as follows:
Pop
Look What You Made Me Do
- Taylor Swift
Alternative
Thunder
- Imagine Dragons
Rap
Humble
- Kendrick Lamar
Country
Body Like A Back Road
- Sam Hunt
From surveying fourteen random students across campus, 8/14 knew Look What You Made Me Do, 11/14 knew Thunder, 11/14 knew Humble, and 7/14 knew Body Like A Backroad.
So why are these songs #1 on ITunes, but not everyone knows about them?
Studies on music preference show that the music people listen to is determined by how they fit into the "Big Five Model", which refers to a person's key personality traits. This first and most important category is
Openness to Experience
, which is proven have the biggest effect on music preference. It basically states that when a person listens to music, they do so for the "experience", or rather the feelings the music gives them while they listen. For example, when people listen to jazz music they tend to feel more relaxed and happy, while slow and sad pop songs evoke emotional responses strong enough to where a person will cry every time they hear a certain song. When talking to current senior, Gracie Williams, about her music taste, she explained to me how "When I was younger my dad and I always sang Californiacation by the Red Hot Chilli Peppers together, it was just a thing." It proves that music creates emotions, and people listen to music they can associate happy memories with, as well as ones that make them feel good.
At Hillgrove, the majority of people listen to a mix of Pop music, Alternative, and Rap. People tend to also choose their preference of music based on their environment and who they hang out with on a daily basis. A lot of popular 'Pop' music uses alternative influence these days, so it's no surprise a majority of students are comfortable with both genres. However, the population here at Hillgrove has an obsession for music of almost any kind. From more obscure categories such as J-Pop to the more basic Pop, Rock, and even Classical music.
"Music is an escape, from school and sometimes from home," Senior Nichole Beck, a member of the Hillgrove Band program, shares,"it's something I'm good at, and it's a part of who I am".
Just because a song is #1 on the charts, does not mean it is loved by everyone. However, most people admit that if one of these songs came on the radio, they probably would not change it. Deep down, no one can resist a classic overplayed radio song.
photo: www.wordpress.com
Powered by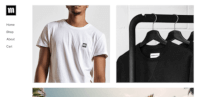 Create your own unique website with customizable templates.