As part of our new teacher profile series, this week The Talon wanted to shine a light on a new addition to the math department: Mrs. Pinto. She has been here since the beginning of the school year and teaches AP Calc AB/BC and Algebra I in room 2214.
"I taught at Marietta High School for fifteen years… the scheduling is different. Marietta was on an AB block, an alternating block, versus this four-by-four, so I teach less classes," she says.
As a bonus, Mrs. Pinto even participated in the lip-sync battle at the fall pep rally, performing with Mrs. Sweet and two other math teachers doing "Can't Stop the Feeling".
"One of my students asked me if I would do it, and I said 'sure'. And, so, I found a couple of other teachers that were willing to do it."
In addition to teaching math, Mrs. Pinto has a daughter at home and says that some of her favorite hobbies include "watching television, doing fun things with my 6-year-old, and I love sleeping."
Mrs. Pinto says that she's always wanted to be a teacher, and was moved towards math in college.
"I went to Young Harris College right out of high school and had an amazing math professor, Dr. Nichols, and he inspired me to be better at math, and I tutored other students and I found a real knack for it… I love, love,
love
teaching my classes, AP Calc and Algebra. They're amazing."
She also seems to be adapting to Hillgrove pretty well, especially when it comes to students and school spirit.
"It's a good place. I like all the things already put in place. I like the traditions, I like the student work ethic. I like the math department… so far, it's been a really welcoming environment for a new teacher. I've really felt welcome. I love the people I work with. I love the students I work with. It's just a very happy, supportive atmosphere."
Powered by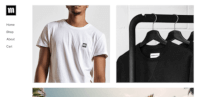 Create your own unique website with customizable templates.