If you take a look around your local grocery store or favorite restaurant, chances are that you will run into a gluten-free product one way or another. In the past decades it certainly was not emphasized upon enough to be noticeable, but today establishments are offering a wider range of gluten-free accommodations to customers than ever before. You may ask yourself, why might that be? Let's break it down, beginning with what gluten actually is.
Being an individual myself who actually has a gluten allergy, I cannot even come up with an answer for what gluten actually is. Many people who have a limited knowledge on what the allergy is may say that gluten is a part of wheat but it is much more than that. The Celiac Disease Foundation explicitly states that, "Gluten is a general name for the proteins found in wheat, rye, barley and triticale – a cross between wheat and rye. Gluten helps foods maintain their shape, acting as a glue that holds food together. Gluten can be found in many types of foods, even ones that would not be expected." They are especially spot on when stating that gluten can be found in unexpected meals. Knowing what gluten actually is found in, how come so many people today are becoming gluten intolerant or refusing to consume it.
Once you discover that you have a gluten allergy, it does not go away. Any gluten-related disorder can be either autoimmune or hereditary. If an individual has an autoimmune condition to consuming gluten, it was triggered at one point and will remain active forever. Some speculate that there has been a rise in gluten intolerance because the change in wheat production, damaged digestive system, or genetics.
Being that America has become a lot more advanced and innovative, crops usually are tampered with in order to produce larger amounts of good crops. Wheat grain especially has been altered with in order to survive droughts and to make the baking process efficient. Our bodies are alert to any changed so some people may have stomachs that are especially sensitive to the new modifications.
Unknowingly, some people may be consuming gluten with a distressed stomach but doing so will negatively affect your health. There are recent findings that an ongoing usage of antibiotics may trigger a gluten intolerance. The immune system can mistake gluten as a microbial invader and will try and fight it off which provokes symptoms of a gluten intolerance.
A major gluten intolerance is linked with celiac disease which is hereditary. This supports the reason why people develop a gluten intolerance. Scientists have discovered that half of the population who are allergic to gluten have a gene that explicitly relates to development in gluten sensitivities.
As someone who is gluten-free, I find it difficult to find affordable gluten free food that actually tastes good. Even though many store have provided more gluten-free foods and restaurants have accommodations for food allergies, it can be a hit or miss. An individual with celiac disease, Avery Lario, says that, "there are so many that accommodate for gluten free stuff. Johnny's New York Style Pizza is good because of gluten-free crust is thin but they do it thicker." Many public places including colleges have as well gained a lot more gluten-free meals on their menus. Kennesaw State University provides students who have food allergies with a variety of foods which Avery explained, "I dual enroll at KSU and they have a bunch of gluten-free desserts so I order, like, 7 desserts in one day."
So many individuals have gotten onto a gluten-free diet because it generally clears a foggy mind, reduces headaches, and decreases fatigue. But, as Avery specifies, "it's not just a fad. It's gotten a lot of coverage because everyone and their brother is on a health kick." Gluten intolerance and celiac disease can become a serious health problem so make sure you know how to handle the food and its symptoms for anyone you know who may have a gluten allergy or for yourself.
Photo Credit:
http://wallpapersdsc.net/other/bread-29085.html
Powered by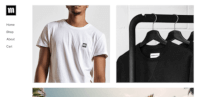 Create your own unique website with customizable templates.