At some point in our lives we have all experienced embarrassing moments, ripped dress, forgotten lines, maybe wetting your pants during. One group of students that always seem to have an embarrassing story up there sleeve is freshmen, maybe it's because gullible or maybe it's because they are new but you can always count on a freshman to do something that will make you cringe or laugh hysterically. Some people do not want to admit that they have a story to share.
On my first day of freshman year (Class of 2020) I was late to homeroom which should not be a big deal on the first day. We left our house on time but the traffic was horrendous that morning, when I walked into homeroom at 8:20 everyone in my homeroom already knew each other. When I came in the whole room got silent and everyone stared at me for the longest time, To make matters worse my "assigned" seat was in the very back of the classroom, so while everyone stared at me quietly I had to walk to the back of the class through my teachers narrow rows of desks. Then at the end of the day my mom wanted me to walk over to Lovingood to avoid the Hillgrove carline. It was my first time being back at a Cobb County school in five years so I did not go to Lovingood as a middle schooler. So, instead of taking the shortcut to Lovingood the passes the Hillgrove student parking lot , I walked all the way to the front of Hillgrove passed the big marquee sign and walked the whole sidewalk next to the road until I got to Lovingood. As soon as I got there hot and sweaty in the eighty degree weather at the beginning of August, my mom looked at me and pointed to the shortcut where other kids were coming from an asked me why I did not walk that way to get to Lovingood. Even though school was over I felt totally embarrassed.
Jamonet Rice (class of 2019) shared a story about her freshmen year, "When I started freshmen year they ushered seniors one way to homeroom and freshman to the other way but my dad dropped me off on the side with the seniors. I walked in with a bunch of seniors because I thought they were freshman and when I passed the auditorium an administrator reached out and stopped me and told me I did not look like a senior. After the administrator pointed me in the right direction I got all the way until second period without getting lost again. But during Latin I left to use the bathroom and on the way back I opened the door and walked into a sophomore geometry class. I call that the day of getting lost, I barely found the way to my moms' car that afternoon."
As a freshmen at age fourteen Kate Johnson,(Class of 2018) left AP Human Geography to go to the bathroom, but she only knew where the bathroom was near the auxiliary gym from participating in volleyball. Kate went on a trek around the school to find the bathroom, but when she got to the top of the staircase she decided to pull out her phone to text her mom that she was having a great day. In a matter of moments Kate tripped and fell face first down the stairs right as she was putting in her phone," I was lucky this wasn't during class and I was saved from the ENTIRE school seeing my embarrassment. Luckily two junior girls came quickly to Kate aid and helped her up, and she cried right in front of them. I just thought it was kind of silly."
For current freshman, there no way to avoid embarrassment but to take it in stride, it will make for a great story to tell your grandkids.
Photo Credit:
www.chegg.com
Powered by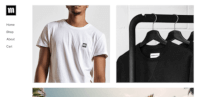 Create your own unique website with customizable templates.