Thanksgiving is now right around the corner, and many people are developing their plans for the holiday. Whether it be vacations or family reunions, it seems that the holiday offers activities for everyone. However, when it comes to Thanksgiving specials, they're not as abundant as specials based around other holidays. There are a few, however, that are more than worthy of a viewing this fall.
A Charlie Brown Thanksgiving
, for instance, has remained a timeless classic for decades. Even Hillgrove student Paul Sprenkle has stated that this special is his favorite because with his family, "its a tradition." On top of having good jokes and a charming story, this special has a comfortable atmosphere that just screams the spirit of Thanksgiving. If there is at least one special mentioned in this article that is viewed every year by the majority of people, then it is definitely this one.

Moving to a more recent series, the
Bob's Burgers
episode "Dawn of the Peck" is another great Thanksgiving themed special. The story centers around a "Turkey Run" event gone wrong when the turkeys used end up being extremely dangerous and put the entire town in danger. Not only is the plot creative for a Thanksgiving episode, but the jokes are hilarious and the characters are entertaining. On top of that, it has several great comedians guest starring, such as Kevin Kline, Zach Galifianakis, and Bill Hader.

However, if viewers are looking for a true Thanksgiving classic with laughs throughout, then look no further than 1987's
Planes, Trains, and Automobiles
. Directed by the legendary John Hughes, this comedy follows the story of an everyday man (played by Steve Martin) trying to get home to spend Thanksgiving with the help of a traveler (played by the late John Candy), who gets them into one hijink after the other. This movie is often considered one of the greatest comedies ever made, with plenty of jokes that will make anyone bust a gut. However, what also makes the film work so well is its story, which at its core is a heartwarming tale of a man trying to get home for the holidays. The ending in particular is one that I will not dare give away, as it is one of the most emotional and uplifting endings I have seen in a film; and it is one of the many reasons to give this film and the others mentioned a watch this Thanksgiving.

photo credit: www.scriptshadow.com
Powered by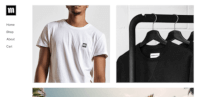 Create your own unique website with customizable templates.