At the beginning of the month of September our president, Donald Trump, announced that he will be moving to end DACA. DACA, or Consideration of Deferred Action for Childhood Arrivals, has been in place since 2012, it is used to
protect those who were brought into the U.S. as children. This protects these people from being deported, and gives them time to become actual U.S. citizens. The restrictions on this program is that you had to have come to the United States before your 16th birthday.
When the President announced that he would start the removal process of this protection program, many people around the country became extremely infuriated. Many people have become terrified that they have the extreme risk of being deported, or that they are just infuriated with the lack of Donald Trump's clarity. There were protests, angry posts on Facebook, and the President just replied to this with a few Tweets. These tweets basically said that nothing will be done in the six month period that Congress has to either renew DACA, or get rid of it. Trump's tweeting definitely got the news of the possible end to DACA out very quickly, and honestly, more people were talking about his tweets than they were the actual White House announcement. Back in June, Sean Spicer said that Trump's tweets are official announcements of the White House, but is this use of Twitter helping or hurting Donald Trump's presidency, and more importantly, how does this affect the issue of DACA?
The official announcement from the White House stated that DACA was going to officially end in six months, and the Twitter announcement from Donald Trump presented an ultimatum that either Congress has to fix DACA or it will end, seemingly nicer than just saying DACA is going to end. This, for those people who actually follow Trump on Twitter, about 38.9 million people, makes it seem like what is actually going to happen with DACA is very complicated, so the uncertainty is really where the issue lies. Carson Hulsey, a senior at Hillgrove High School, says that "His childlike approach to many issues causes them to not be taken as seriously." This leaves people very confused and not sure what to do, for those who are relying on DACA, it terrifies them, and really, what are they supposed to do? Wait out the six months, or do they need to find a new place to live? At this point, they can at least find some comfort in the fact that over half of the American people do not agree with the President, and that DACA will not go down without a fight.
Powered by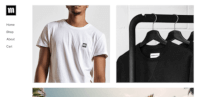 Create your own unique website with customizable templates.