While Hillgrove is known for academics in the community were also getting better known for something else sports. When people think of sports the familiar image muscular football players and lean basketball players come into view, but what about cross country? Aaron Bensley, a junior at Hillgrove High school has been running track since he went to middle school at Lovinggood Middle School. " It's fun." Aaron is one students at Hillgrove who runs cross country and track "It's "The races are 3.1 miles, and the longest race in track is 2 miles." Aaron Bensley. Some athletes such as Victoria Shanahan run cross country in the fall and play a different sport in the spring. Most people don't realize how much effort goes into running cross country versus track, having to run longer distances, track differs from cross country because endurance and conditioning it takes. Cross Country meets are scores different as well. "1st place gets one point, 2nd place gets two, and so on and so on. The person with the least amount of points wins." only the first 5 people on each team are scored. Hillgroves' cross country team consistently scores in the top five in meets.
​ They are looking forward to a great season.

With their great results the Hillgrove cross country team need money for the team.This year cross country started and annual fundraiser called the donut dash to raise money for the team to be used for things such as foam rollers and overnight field trips. "You eat a donut and run a lap." said Aaron Bentley. It was 60 dollars or a team of 4 or 20 dollars per individual. Cross country is trying to raise at least 10,000 dollars for their team. The last field trip qualifying athletes went on was the eye opener overnight trip. 50 athletes qualified for this trip and over 4 Hillgrove athletes placed.
What's next for the cross country team? With their spirit and determination the sky's the limit for Hillgrove cross country!

picture: www.twitter.com
Powered by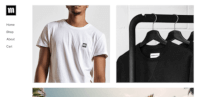 Create your own unique website with customizable templates.