Did you notice that this month started out with a Sunday? Do you know what that means? This October will contain a Friday the 13th! It can be difficult to get through an ordinary work day but if you throw in the fact that it is Friday the 13th and some people become a little more stressed than usual. This day is infamous for being a Western superstition and some develop the actual fear, friggatriskaidekaphobia, of Friday the 13th. It seems like a trivial fear but some people see this as a day ridden of bad luck.
There is absolutely no individual who does not enjoy, possibly, one of the best days of the week, Friday, unless that Friday happens to be followed by the number 13. So where does the fear actually come from? The Last Supper included 13 guests, the 13th guest being Judas who was an apostle that betrayed Jesus. Jesus was also crucified on a Friday which only adds to the biblical roots of this superstition. Individuals who do not give into the stigma of Friday the 13th believe any bad luck that takes place day could be traced back to the superstition but individuals, like Kaitie Branham, disagree by stating, "I think the bad luck is just people associating it with the unlucky number: 13."
Whether this day is coincidence or reality, our culture has made people unconsciously weary of their actions. Studies even show that economic profits, such as travel and real estate, go down because people avoid spending money whether they recognize the day as unlucky or not. It seems logical to avoid potentially dangerous activities just in case, which Gracie Williams agrees by saying how, "going on a plane seems like such a bad idea," and Kaitie, who is in the same frame of mind, stating, "I mean, I guess it is smart because what if something does happen? Then you'll be like, ugh, should have stayed home."
Besides the possibility of misfortune, Friday the 13th has been a great way to market in terms of media. One of the biggest horror franchises under the same name,
Friday the 13th
, has flourished based off of this superstition and the recent video game spin-off of the movie series has also been successful. Because of this day being so well recognized, this Friday the 13th, the movie,
Happy Death Day
and videogame,
The Evil Within 2,
will be released, and what a fitting day.

​
So will you be staying at home or braving the superstitious day this Friday? Either way, be just as safe as you are any day of the month, and watch out for any black cats or ladders.
Powered by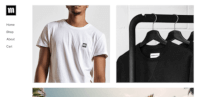 Create your own unique website with customizable templates.